If you're thinking of coming to Italy with us, you probably have a lot of questions. I'll try to answer as many of them as I can here. But please, DON'T BE SHY. You're welcome to email or call me with a question any time. My name is Casey Keller and my number is 818-625-2641. 

But basically, here's what you'll need and need to know. 

What you're paying for: You'll pay me nothing. The hotel will be around 45 euro/day. Bike rental should be 25 euro/day. 

Your Passport: Please check that your passport is up to date. You can apply for a new passport or a renewal at most post offices. Here's all the passport information you'll need from the State Department's web site. CLICK HERE

How do you I get there?: Assuming your only stop in Italy this trip will be our cycling adventure, fly to Venice/Marco Polo International Airport (VCE). It's about 90 minutes from our B&B. From there you can come to join us in Campolongo Sul Brenta by taxi, about 100€ – a bargain if there are 2 or 3 of you to share the cost – or give you directions and enough Italian to let you take the train. If you're coming from somewhere else, give me a call and I'll help you figure it out.

Travel Insurance: I recommend it with all my heart. If you happen to get sick or injured on your trip, that $80 premium can save you thousands of dollars and get you home safely and comfortably. I speak from personal experience. 

Do I need to speak Italian?  I've been studying Italian for enough years that wherever I go in Italy, I'm perfectly capable of making a fool of myself. Actually, I do manage quite well and I'll be happy to serve as your interpreter.
Most Italians are flattered and encouraging when you try to speak their language, so it's fun and worth your time to learn a few phrases. You may want to get your ears on some CD's called Earworms – Rapid Italian. The complete set is only $22 on Amazon and they're great fun to listen to in your car. 
If you'd like to download a little Italian phrase book I made up for an American rowing team on their way to compete in Italy, CLICK HERE. 

What's the deal with money? Most of the time you'll be dealing in cash. While the hotel in which we'll stay does take credit cards, cash is always preferred. But, there's no need to bring a ton of cash and there's never a reason to bring travelers' checks since most European banks charge a fee to cash them. The ATMs (Bancomat in Italian) do a fabulous job of converting the dollars in your checking account to euro and dispensing them when you need them. They give you a better exchange rate than the money exchange offices you'll see at the airport or train station. If you arrive with 100 euro in your pocket and a debit card, you'll be just fine.

SPEAKING OF MONEY, THERE'S ONE EXTREMELY IMPORTANT THING TO REMEMBER: Before you leave, call your bank and credit card companies and let them know where and when you're going. Their computers get very suspicious when they suddenly see charges on your account from a different continent and they'll deactivate your credit or ATM card first and ask questions later.

OOPS! THERE'S ONE OTHER EXTREMELY IMPORTANT THING: Please be sure the PIN (Personal Identification Number) on your ATM card is only 4 digits. For some reason, European ATM's, Bancomats, only recognize 4 digit PINS. 

AND EVEN ONE MORE EXTREMELY IMPORTANT THING: If your credit or debit card does not have a computer chip, I suggest you call the company and get one that does. These are the only kinds of cards that work in Europe. .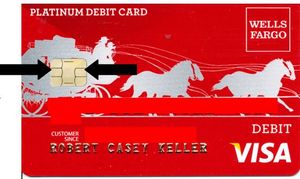 Tipping:  Tipping is not customary in Italy. No tip is necessary because restaurants have a cover charge or coperto added to your check that covers the service. Of course, rounding up the conto by a few euro is okay. For example, leaving 60 euro for a 58 euro check. But paying a percentage of the total is not customary. Ironically, it's not unusual for the host at a nice restaurant to give you a "tip" by providing a complimentary limoncello or grappa after dinner as a digestivo.

How much cash will I need? 
This is one of the questions most asked by my guests. Everybody's different, but here's a rundown on what we typically spend.
Transportation to and from the airport - I can give you directions and enough Italian phrases to get you from the Venice Airport to where we'll be staying. Expect that to cost about 25€. A cab will cost a little more than 100 euro.  
Meals – The Contarini does a fine breakfast. Cereal, fresh fruit, cappuccino and pastries baked by Chiara, the Contarini's very gifted pastry chef. The area we ride in is not touristy, so there are plenty of local spots for reasonably priced meals. We pick up lunch at a local bar and it costs between 5 and 10€.  Dinners are usually between 15 and 20€ including wine. Expect to get a coffee and a pastry along the route as we ride. It's a lot cheaper in Italy than it is at Starbucks. And a lot better, too.
Bike rentals - Polo bikes in Bassano rents excellent carbon fiber bikes with SRAM components. Everybody who stays there asks to buy one. We send him a few measurements, and when you arrive, the bike is ready and fairly well fitted to you. This costs 25€ a day. 
Electricity: Yes, they do have electricity in Italy! But it's a little different from ours. If you're bringing things that must be plugged in... phone chargers, hair dryers, computers, you will need electrical plug converters. 
There are two kinds. 
1) The ones that simply adapt the plugs on your US products to fit into the sockets in Italy. 
2) The ones that actually transform the European produced electricity that runs at 220 volts and 50 hertz to the American standard of 110 volts and 60 hertz. 

I have both kinds, but I've only needed the first kind which should be good news since they only cost around $3 and are available at Walmart, Target or any store specializing in travel. 
For more information on this, CLICK HERE. To buy a set of four on Amazon, CLICK HERE. 

YES, our hotel has free Wi-Fi.

Should I bring my own bike? Airlines charge as much as $200 each way to carry your bike on their planes. Why? Because they can. So you'll probably want to rent a bike. Ricki at Polo Bikes has excellent carbon fiber bikes with SRAM components for 25€/day. They can have a bike set up with your measurements when you arrive. You'll pay at the end of your stay (along with any other incidental expenses such as laundry and transportation to dinner or to or from the airport). And please remember, they do not take credit cards.

Should you decide to rent a bike, you still need to bring a few things…
* Your helmet
* Your pedals
* Your shoes
* Your gloves
* Your cycling glasses
* Your drink bottles
* Your favorite sports drink
* Your cycling clothes
* If you bring a pair of easily attachable front and rear bike lights, we'll have a choice of more places to go for dinner each evening.
* You may want to bring your own saddle, especially if you ride a woman's' specific saddle.

If you're going to rent a bike, I'll need the size of the bike you ride at home. This is usually somewhere between 48 and 62 centimeters and can often be found on a decal on your bike. In addition, I'll need two more measurements. (see illustration below)
          A: The distance from the center of your bottom bracket (where your cranks are attached) to the top of your seat.
          B: The distance from the tip of your saddle to the place where your handlebars are attached.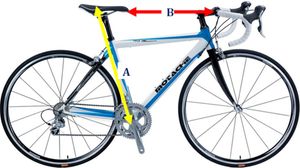 What do I pack?
 We'll be going out to dinner every night, but always to casual, friendly places. Flip-flops and gym shorts are a bit too casual, but there's no need to bring anything fancy. I usually wear a nice pair of shorts or cargo pants and a shirt with a collar. Since we'll be there in September, I'll probably wear long pants and a sweater to dinner. My fashion consultant, Blind Willie McTell, suggests casual shoes for women and nice sandals or casual shoes for men.
Bring at least two sets of cycling clothes (three is better) so you don't need your laundry done every day. In late September it can get a bit chilly so a pair of arm warmers and a vest or jacket are a good idea. Even a light, rain proof jacket can come in handy.
Pharmaceuticals: In Italy, you can't pick up little items like aspirin, antacids, cold meds and cortisone cream at the market. You have to go to a
farmacia
(far-mah-
chee
-ah) and pay a bundle for them. (Ironically, prescription meds are amazingly inexpensive). On a recent trip I needed a little pimple cream for a saddle sore. It cost me 16€, $21.00 for what was basically a tube of Clearasil. So if you think you'll need Tums or Advil or nasal spray, (or zit cream) you'll be wise to bring it from home.
The Weather
Here's the average temperature and rainfall for where we ride. Rain is not usually a problem because weather systems move through the Val Brenta (Brenta River Valley) very quickly. So if we're rained out in the morning, we can go in the afternoon. I've been caught ou tin the rain a few times, but in eight years, I can remember only one day when we were completely rained out.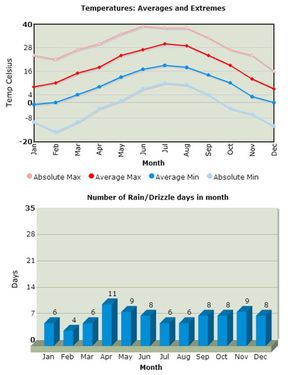 IMPORTANT IF YOU COME FROM CALIFORNIA, COLORADO, OREGON or WASHINGTON, D.C.
: In Italy, this sign means farmacia (pharmacy) and
NOT
marijuana dispensary.